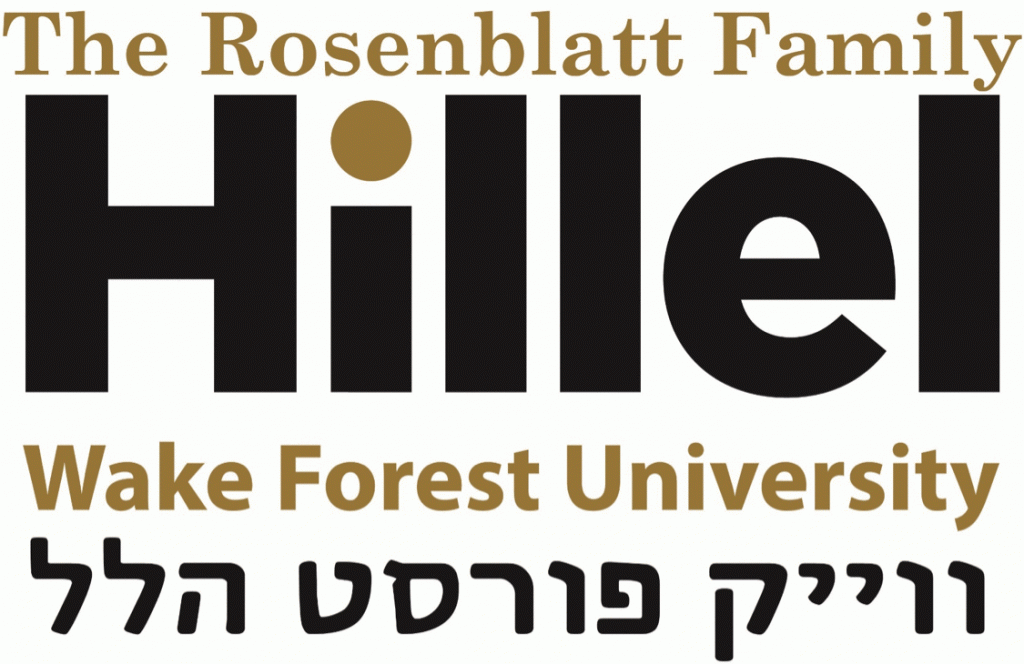 Welcome to Wake Forest!
The Rosenblatt Family Hillel
The Rosenblatt Family Hillel at Wake Forest University is a student-run organization that provides Jewish programs for students, faculty, and staff. Our active Jewish community on campus is small but vibrant (~5% of the student population self-identifies as Jewish).
In the Hillel lounge, we host events, including free (dairy/ parve) kosher Shabbat dinners every week and monthly Sunday brunches. We have a great relationship with Temple Emanuel, the synagogue in Winston-Salem, and have partnered on programs like the Challah for Hunger fundraiser, Purim celebrations, and community service events.
The Rosenblatt Family Hillel hosts inclusive services on campus for the High Holidays. Rosenblatt Family Hillel frequently organizes diverse lectures, films, and interfaith dinners, and annually co-sponsors a Tu B'Shevat tree planting with the Office of Sustainability.
Connect with us via Facebook. (https://www.facebook.com/wfuhillel/)
Our WFU Hillel Board (2023)
The Rosenblatt Family Fund for Hillel at Wake Forest
We are grateful to the Rosenblatt family (Dave '77, Lucia, and Lucas) for their generous support of the WFU Hillel organization and enrichment of Jewish Life on campus. You may join them in supporting our Hillel:
Programs
Hillel offers something for everyone, including brunches, pizza nights, bowling, hiking, movie & game nights, holiday celebrations and meals, educational offerings, and social action and volunteer opportunities. We even have our own Intramural franchise, the Matzahballers!
Social Events
The Jewish students on Wake Forest University campus are very social and prefer events that bring Jewish students together for fun events and food. A majority of our students come from Reform, Secular, and Conservative Jewish and mixed religious backgrounds (in that order), and many were active in Jewish youth groups (and leadership) back home.
Social events include:
Meet and Greets
Pizza Parties
Game Nights
Fro-Yo Events
Shabbat Dinners
Bagel Gatherings
Challah French Toast Brunches
Movie Nights
Intramural Athletics
Hikes
Local trips
Bowling
Study Sessions Support during midterms and finals
Tzedek and Social Action
Hillel students at Wake Forest are involved in campus-wide Social Action projects like "Hit the Bricks" or "Project Pumpkin" as well as working with the Wake Food Bank, Habitat, and other service projects, including local Mitzvah Day.
Tzedakah and Social Action projects include:
Israel Education
Israel education is an important part of Rosenblatt Family Hillel at Wake Forest.
Holiday Programming
Most major Jewish holidays are celebrated on the Wake Forest University campus. Services are lead by students, faculty, and staff. Holiday meals are organized, cooked, and enjoyed by all members of the WFU student body and staff. In addition, our students are invited to attend local Jewish congregations for free (including high holidays if they chose an option off-campus). Click here for local Jewish congregations.
Holiday Programming includes:
Prayer and Worship Services
Rosh Hashanah and Yom Kippur services, dinners, and break-fasts on campus
Sukkah building and sukkot events
Simchat Torah – Torah dancing
Hanukkah menorah lighting
Tu B'shevat Plantings and Seders
Purim celebrations
Passover Seders and Passover food in Hillel Lounge and coordinating Passover foods in the campus dining hall
Yom HaShoah (Holocaust memorial)
Shabbat services and celebrations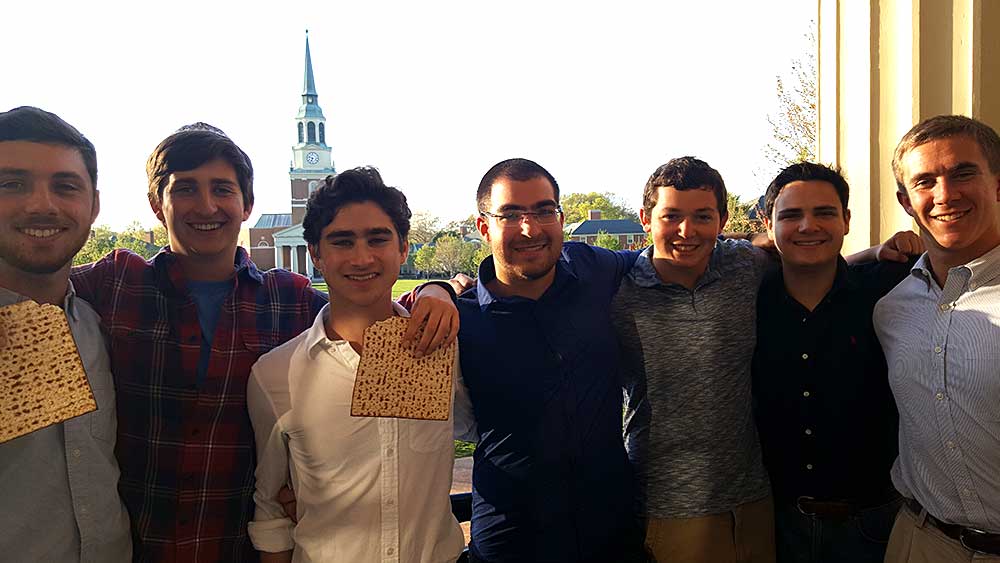 Educational Opportunities
In addition to the amazing education one receives at Wake Forest University, there are other opportunities for informal education, such as individual lessons on how to lead services, discussion groups, workshops, conversational Hebrew, and weekly Judaism 101 classes.