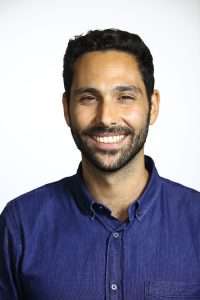 Orr Grosman is serving as the inaugural Israel Fellow for Wake Forest, Elon, and High Point Universities, three campuses of the Triad Hillels of North Carolina partnership.
The Israel Fellow Program is a national Hillel/Jewish Agency initiative, in which fellows share personal experiences of modern Israel through the lens of its socially-progressive values and its accomplishments in technology, life sciences, and the arts.  Fellows support students and help them to grapple with complex issues that are often emotional and may seem contradictory. This way, students develop an authentic relationship with Israel. Orr is an expert in creating meaningful dialogues between people of all religious, social, racial, and political backgrounds.
This position, supported with generous grants from the Leon Levine Foundation and the Jewish Agency for Israel, will play an integral role in developing opportunities to engage students in Jewish life and Israel on the partnering campuses.
Orr comes to the Triad from Boston University, where he spent the past two years as the Jewish Agency Israel Fellow fostering relationships, creating dialogue, and successfully creating meaningful and fun programs to engage university students with Israel.
Originally from a Moshav near Jerusalem, Orr brings professional experience in high-tech and start-up companies, such as IBM and Guesty.  He also served as a Chanich (Camp Professional) in Habonim Dror UK and Taglit Chile, led a summer camp in RSY UK, and is a fellow (and proud alum) of Stand With Us at Tel Aviv University. Orr holds a double degree in Social Sciences and Humanities from Tel Aviv University.
Orr is looking forward to engaging with students, staff, and faculty at Wake Forest, High Point, and Elon Universities while getting to know the members of the Triad's Jewish communities.
Email Orr at IF.TriadNC@nullgmail.com
Contact Us
Jewish Life Office
Dr. Gail Bretan
Associate Chaplain for Jewish Life
The Office of the Chaplain
Wake Forest University
Benson Center 321, PO Box 7204
Winston-Salem, NC 27109
336.758.4056
---
Hillel
---
AEPi
---
SSI – Students Supporting Israel
---
Israel Fellow
---
Jewish Studies
Dr. Mir Yarfitz
Director, Jewish Studies
B114, Tribble Hall

336.758.2580
---
Office of the Chaplain
Peggy Beckman
Office Manager
8D, Reynolda Hall
336.758.5210
---
To Donate: Thank you for your donations that make our programs possible.