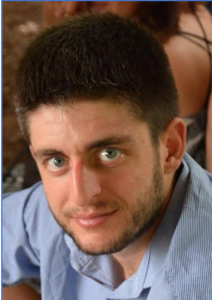 Amit Melchior is serving as the Israel Fellow for Wake Forest, Elon, and High Point Universities.  The Israel Fellowship is made possible by generous grants from the Leon Levine Foundation, the Jewish Agency for Israel, and Hillel International.
The Israel Fellow Program is a national Hillel/Jewish Agency initiative, in which fellows share personal experiences of modern Israel through the lens of its socially progressive values and its accomplishments in technology, life sciences, and the arts. Fellows support students and help them to grapple with complex issues that are often emotional and may seem contradictory. This way, students develop an authentic relationship with Israel.
Amit brings extensive experience working in Jewish summer camps in North America and in South Africa. He is known for developing meaningful relationships, mentoring student volunteers, and facilitating dialogues between people of all religious, social, racial, and political backgrounds.
While in North Carolina, Amit will help university students discover and create their own personal connections to Israel while strengthening their ties to their campus Hillel communities. He is looking forward to planning bi-annual Birthright trips where students from all three of the Triad campuses will travel and learn together.
Amit grew up on a Kibbutz in Israel. During his gap year, he volunteered in his community's youth center, providing educational and mentoring opportunities. During his three years in the IDF, he was a combat Medic and Squad Commander. He is currently completing his studies at Haifa University and will soon graduate with a B.A. in both Jewish History and Education (with a teaching degree/certification). In his spare time, Amit enjoys wood and metal working, and exploring the outdoors.
Email Amit at IF.TriadNC@nullgmail.com
Phone: 407-580-0082